Winterfest
Winterfest is a Seasonal Event in MilMo, which takes place between December and January.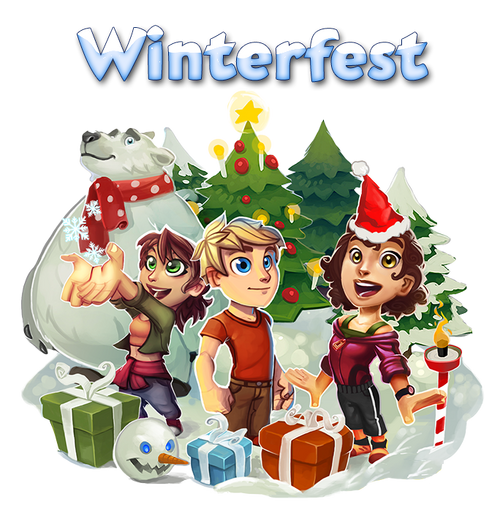 Event Overview:
Event has ended. See you next time!
The following areas are in winter during the event:

Candy BarCandy BarMmm. Chocolate-y. Double-click to run faster for a few seconds.


Candy CaneCandy CanePerfect for the holidays. And minty.

Golden Sea StarGolden Sea StarSo shiny!

IcicleIcicleSo cold!
Magic TwigMagic TwigThere is something magical about these.


Red RibbonRed RibbonThe perfect last detail for any hat.

Sage Oak WoodSage Oak WoodPrime Wood from the Sage Oak Trunk.
Undecorated TreeUndecorated TreeIt feels like this tree is missing something?
Name
Price
Member Price
Price Coins
Candy Cane (Weapon)

Candy Cane (Weapon)

Special flavour for enemies.

3000
2400
540
Cozy Scene

Cozy Scene

It truly makes a hot cup of chocolate more enjoyable.

2500
2000
Frost Axe

Frost Axe

The coolest weapon to chop with.

15998
12798
Frost Blade

Frost Blade

For the cool warrior. Weapon Type: Sword

15998
12798
Frost Boots

Frost Boots

Not as slippery as one may think.

1800
1440
Frost Crown

Frost Crown

Keeping your head cool.

2999
2399
Frost Gloves

Frost Gloves

Keeping your hands cold at all times.

2999
2399
Frost Legs

Frost Legs

Freezing!

1599
1279
Frost Suit

Frost Suit

Not so comfy, but very cool.

1995
1596
Frost Wand

Frost Wand

For the frozen wizard.

15998
12798
Frost Wings

Frost Wings

Go through blizzards with ease.

60000
48000
Holiday Hat

Holiday Hat

It's very festive.

499
399
Icicle Club

Icicle Club

Who knew hard ice could be so dangerous? Weapon Type: Club

15998
12798
Icicle Pendant

Icicle Pendant

For sale during Winterfest only!

800
640
Scape

Scape

It's snowing!

1999
1599
Ski Stick

Ski Stick

Let's go skiing!

8000
6400
1440
Snow Cap

Snow Cap

Now you can be warm and adorable at the same time.

1450
1160
261
Winterfest Tree

Winterfest Tree

Look, it's a dancing tree!

4999
3999
Wreath

Wreath

For the decorative type of person.

799
639
Medal
Description
Rewards
Nose-Nipper

Nose-Nipper

Defeat 25 snow fiends.

Defeat 25 snow fiends.
100 Gem,300
Frostbitten

Frostbitten

Defeat 100 snow fiends.

Defeat 100 snow fiends.
500 Gem,750
Abominable

Abominable

Defeat 250 snow fiends.

Defeat 250 snow fiends.
1000 Gem,1500
Junior Jingler

Junior Jingler

Defeat 25 winter goats.

Defeat 25 winter goats.
100 Gem,300
Bell-Ringer

Bell-Ringer

Defeat 100 winter goats.

Defeat 100 winter goats.
500 Gem,750
Ringing in the New Year

Ringing in the New Year

Defeat 150 winter goats.

Defeat 150 winter goats.
1000 Gem,1500
The Impatient

The Impatient

Smash 20 Winterfest gifts.

Smash 20 Winterfest gifts.
100 Gem,300
Under Wraps

Under Wraps

Smash 50 Winterfest gifts.

Smash 50 Winterfest gifts.
500 Gem,750
Present Danger

Present Danger

Smash 150 Winterfest gifts.

Smash 150 Winterfest gifts.
1000 Gem,1500
A Light in the Darkness

A Light in the Darkness

Earn all Winterfest medals.

Earn all Winterfest medals.
200x Cell

Cell

Ammunition for ray guns.

,8000
Coldheaded

Coldheaded

Defeat 25 Frozen Manus.

Defeat 25 Frozen Manus.
1000 Gem,1500
Snow White

Snow White

Defeat 100 Frozen Manus.

Defeat 100 Frozen Manus.
2500 Gem,3000
Ice Cube

Ice Cube

Defeat 250 Frozen Manus.

Defeat 250 Frozen Manus.
20x Mana

Mana

Ammunition for wands.

,5000 Gem,6000
Magic Gardener

Magic Gardener

Collect 25 Magic Twigs.

Collect 25 Magic Twigs.
1000 Gem,1500
Mandrake Catcher

Mandrake Catcher

Collect 100 Magic Twigs.

Collect 100 Magic Twigs.
2500 Gem,3000
Enchanted Herbologist

Enchanted Herbologist

Collect 150 Magic Twigs.

Collect 150 Magic Twigs.
20x Mana

Mana

Ammunition for wands.

,5000 Gem,6000
Christmas Tree Decorator

Christmas Tree Decorator

Complete Operation Xmas

Complete Operation Xmas
200x Mana

Mana

Ammunition for wands.

,10000 Gem,10000